The Ragin' Cajun in Knoxville
As I mentioned previously, Becky and I went to the Knox County Democrats' Truman Day Dinner last night at the Knoxville Convention Center, where we were treated to a keynote address by none other than than the Ragin' Cajun himself, James Carville, described in the event's program as "the most famous political consultant in America" (something I think Karl Rove might take issue with).
Carville was as advertised: bombastic, outrageous, and hilarious. He was also, despite his well-known LSU fandom, dressed in a Tennessee football jersey throughout his remarks: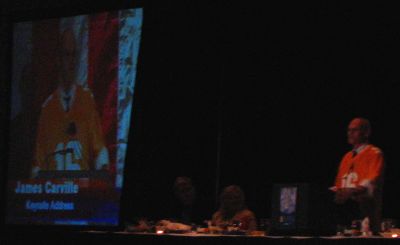 It was a Peyton Manning jersey, presented to him by the Knox County Democratic Party chairman, and he wore it proudly because, as Carville pointed out, Manning was born and raised in Louisiana. "He was our gift to your state," the native Louisianan said. "Don't expect any more."
A press release in advance of Carville's speech said he "will be giving his analysis of the primary campaign of Hillary Clinton and Barack Obama," but in fact, he mostly steered clear of that topic, except to mock the hand-wringers who believe the battle is killing the party. "Don't worry," he said. "We'll be united." He added, "I'd much rather be in the party that's got two good candidates than in the party with one bad one."
The Republicans, Carville said, are the ones who are imploding (a theme echoed today by Peggy Noonan, who I'm guessing doesn't agree with Carville all that often). He then summoned his political strategy expertise and offered some free advice to the Republicans: "PANIC!!!"
But his most memorable jabs were reserved for a former Republican candidate for president, Tennessee's own Fred Thompson. Carville quipped that Thompson was "the only presidential candidate in history to test positive for ambien." (The audience roared.) Carville also said, to uproarious laughter, that Thompson is a big supporter of President Bush's education policy: "He wanted to make sure no child was left behind, so he married her." Heh.
I think my favorite line, though, was his reference to the topic that made this blog famous. Carville mentioned that he'll be giving the commencement address at Tulane this weekend. "I left Louisiana in 1986, and it took me 22 years to get back," he said. "That means I'm getting to Louisiana faster than FEMA got there."
You can read local news coverage of Carville's visit from the Knoxville News-Sentinel and Volunteer TV, and a bloggy interview at KnoxViews. Also, via Knoxville Talks, here is the local NBC affiliate's interview with Carville before the dinner:
As always with these sorts of events, you have to sit through all kinds of warm-up acts before the main event, and those included speeches by U.S. Senate candidates Bob Tuke and Mike Padgett, both of whom are vying to take on Lamar Alexander in November. (The primary is August 7; there are six Democrats on the ballot, but Tuke and Padgett are considered the front-runners.)
Both men spoke a little too long, I'd say, mostly repeating similar talking points: the Republicans are to blame for everything that's wrong with the country, Lamar Alexander has been in Washington for too long and is out of touch with ordinary Tennesseans, etc. Becky thought Tuke was the better speaker by far; personally, I thought Padgett was just about as good, but suffered from the fact that he spoke second, and by that point the audience was getting bored, having already heard all the good anti-GOP lines, and was ready for Carville to speak. Even so, it's odd that Tuke seemed to connect better with the audience, given that he's from Nashville whereas Padgett is a local boy.
Regardless, in all likelihood, Tuke and Padgett are fighting for the right to be a sacrificial lamb in November. According to a Rasmussen poll last month, Alexander leads 59% to 30% over Tuke and 58% to 31% over Padgett. But don't tell that to anyone at last night's event. It was basically a big pep rally for the Democratic Party, and although one speaker acknowledged that it can be "tough to be a Democrat in East Tennessee," folks at this shindig were incredibly upbeat about their chances in November. Of course, political self-delusion is a well-practiced art (just ask Carville's favored presidential candidate!), but I can see why there'd be some optimism: between the general national mood (Tuesday's special election in Mississippi was mentioned numerous times) and the recent scandals in the Republican-dominated Knox County government, it seems like, if there's ever a year when Democrats have a chance in East Tennessee, this would be the year.