Missile hits satellite; Earth eclipses Moon
It's a hit! The missile hit the spy satellite! No further details are available yet. [UPDATE, 12:05 AM: According to the AP, "In a statement announcing that the Navy missile struck the satellite, the Pentagon said, 'Confirmation that the fuel tank has been fragmented should be available within 24 hours.' It made no mention of early indications, but a defense official close to the situation said later that officials monitoring the collision saw what appeared to be an explosion, indicating that the fuel tank was hit."]
Folks on the west coast and in Canada: Did you see anything unusual in the sky -- like a "swarm of meteors", perhaps?
[
UPDATE, 12:25 AM:
Blogger "scorpy808" captured what appears to be
a photo of the eclipsed Moon with a piece of re-entering satellite debris right next to it!
. OMG! Awesome! (I found this by searching Google Blog Search for the word "satellite" and the phrase "I saw.") And
here
is another possible sighting report. Not to mention
Lisa's
in comments!]
Back here in the southeast, the only thing unusual in the sky right now is a very reddish moon, which is just starting to show a sliver of white on the lower right edge as it begins to emerge from the Earth's umbra. As I mentioned below, the clouds eventually cleared and Becky, Loyette and I were able to see it. Well... Loyette may not have seen it, per se, but she was in its presence, anyway. :)
Here's a photo I took of the eclipse at 10:45 PM: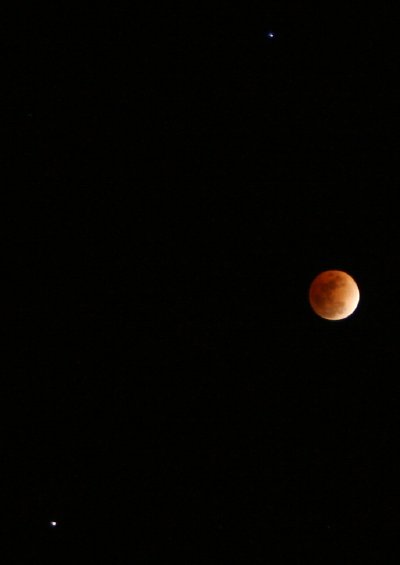 That's Saturn at the bottom of the photo, and the star Regulus at the top.
UPDATE: Here's a wider view, taken at 10:56. The clouds appear orange due to the Greater Knoxville light dome: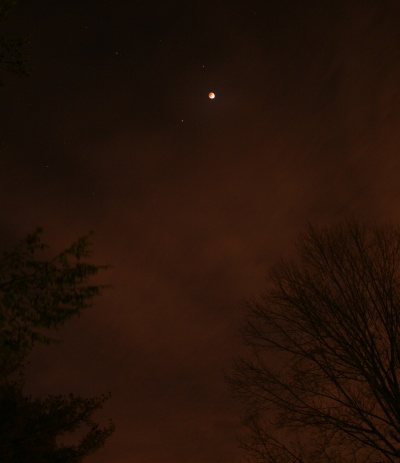 Reader Ken Wagner sends along eclipse photos from Nashville. Thanks, Ken! Others' photos can be found here and here.