Baby's first Lady Vols game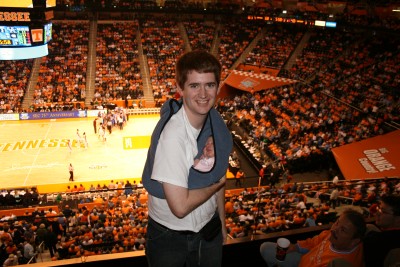 We went to an Obama rally, and a Lady Vols game broke out!
Becky and I decided to check out the Obama rally outside Thompson-Boling this afternoon. We figured it would be a good excuse to get out of the house with Loyette, and I wanted to take some pictures of the festivities. So we drove over to UT, tucked Loyette snugly inside her kangaroo pouch (which I was wearing), and ventured out toward the arena. We ended up getting free Obama signs of our own...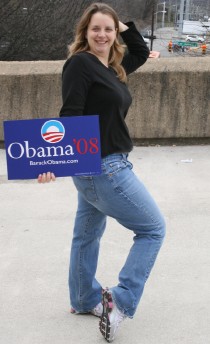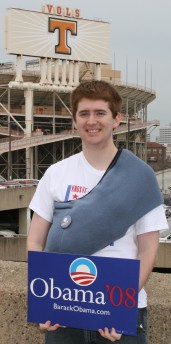 ...and struck up a few pleasant conversations with Obama supporters heading into the arena. Several people were curious to see the baby inside the pouch -- the "youth vote," we said. :) Then one of those conversations took an unexpected turn: a middle-aged couple was looking for someone to give their tickets to, and asked if we'd like them. We figured, what the heck? If Loyette didn't do well with the crowd, we could always leave. So we accepted the tickets, and thus ended up unexpectedly taking our baby to her first basketball game.
And she did great! She was sound asleep inside her pouch for pretty much the entire affair. The crowd noise didn't seem to bother her at all, and after flinching the first few times the P.A. announcer yelled, she got used to that, too. At one point, with my hand on the bottom of the pouch, I could actually feel her snoring -- out like a light in the midst of a crowd of 19,259. Heh. She's a sound sleeper! We ended up staying till the final buzzer, much to our surprise.
Tennessee won the game, by the way, routing overmatched Kentucky, 79-51. And Candace Parker dunked!
Oh, and lest my Connecticut readers be concerned, I sang the UConn Huskies fight song to Loyette during the car ride home. Wouldn't want her to get too indoctrinated with this Lady Vols stuff. :)