Turkey, you're doing a heckuva job!
It's Thanksgiving, which means it's time for the annual presidential turkey pardoning: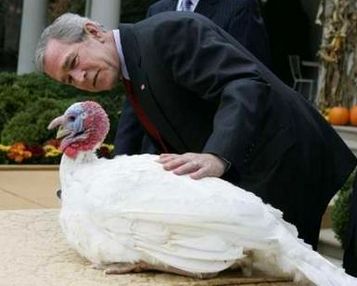 You know, when President Clinton was in office, a turkey had to donate $5,000 to his presidential library to get a pardon.
P.S. The Washington Post has an article on the history of the turkey-pardoning tradition, which apparently doesn't go back nearly as far as is annually reported. (Hint: 1989, not 1947. Bush, not Truman.)
UPDATE: Welcome, InstaPundit readers! I hope you all had a great Thanksgiving.